Warning
: Undefined array key 1 in
C:\inetpub\websites\accel\wp-includes\media.php
on line
785
Warning
: Undefined array key 1 in
C:\inetpub\websites\accel\wp-includes\media.php
on line
787
Warning
: Undefined array key 1 in
C:\inetpub\websites\accel\wp-includes\media.php
on line
790
Warning
: Undefined array key 1 in
C:\inetpub\websites\accel\wp-includes\media.php
on line
785
Warning
: Undefined array key 1 in
C:\inetpub\websites\accel\wp-includes\media.php
on line
787
Warning
: Undefined array key 1 in
C:\inetpub\websites\accel\wp-includes\media.php
on line
790
Warning
: Undefined array key 1 in
C:\inetpub\websites\accel\wp-includes\media.php
on line
785
Warning
: Undefined array key 1 in
C:\inetpub\websites\accel\wp-includes\media.php
on line
787
Warning
: Undefined array key 1 in
C:\inetpub\websites\accel\wp-includes\media.php
on line
790
Warning
: Undefined array key 1 in
C:\inetpub\websites\accel\wp-includes\media.php
on line
71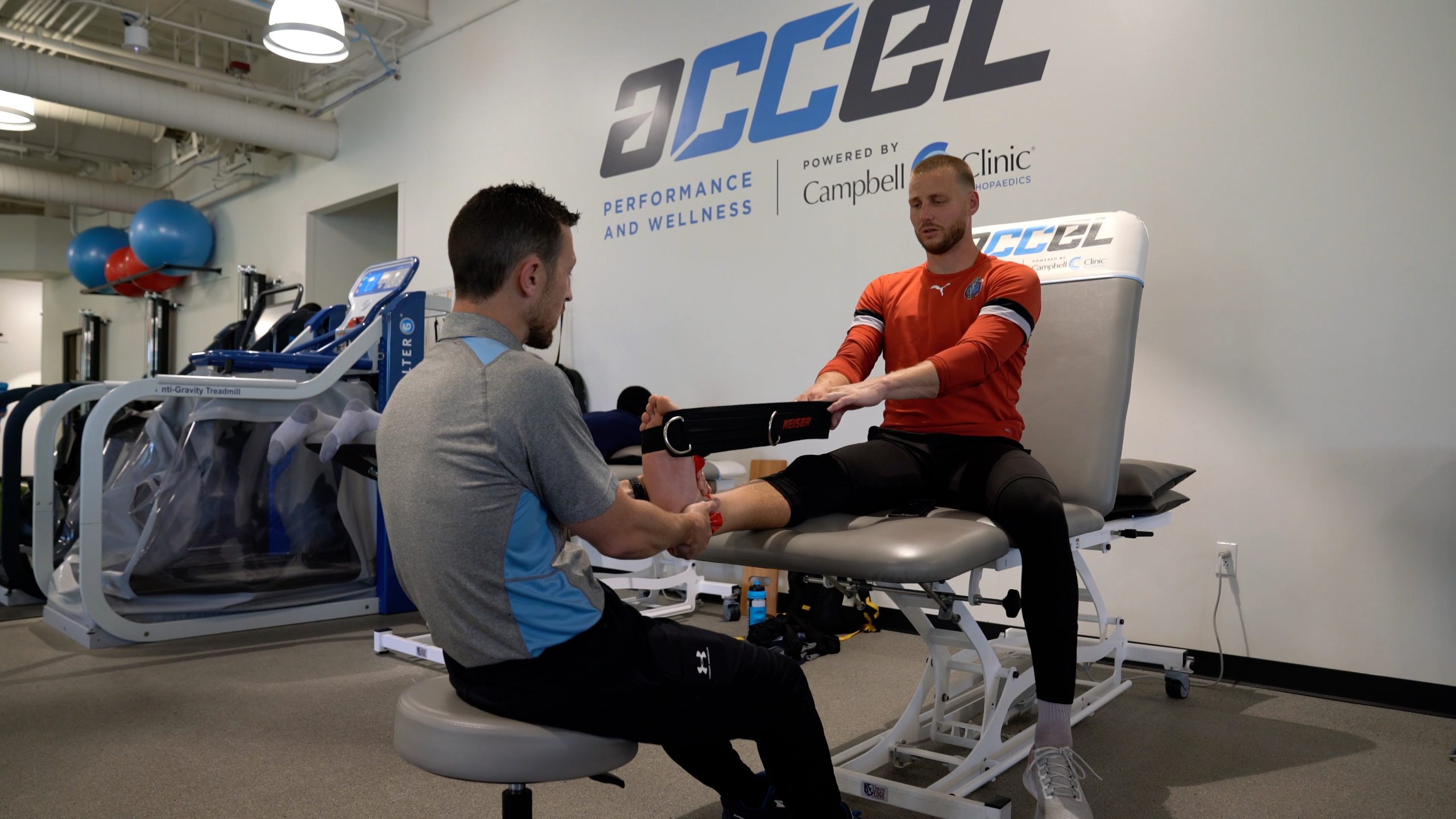 After suffering a devastating injury, athletes can face several hurdles during recovery that aren't just physical. Although a successful recovery and return to the field are often celebrated by fans, friends, and family, the focus is usually on the athlete's physical strength, talent, and determination.
Recently, the spotlight has expanded to include mental health and the powerful force it plays in the recovery process. From the moment the injury occurs until the final rehabilitation session, a range of emotions may bubble to the surface. In every case of injury, a psychological response to sudden changes in mobility and independence is expected.
"Often, athletes are initially met with disbelief and shock because of their new circumstances," said ACCEL Performance and Wellness Director Drew Graham.
This state describes Memphis 901FC Goalkeeper John Berner when he started his treatment at ACCEL Performance and Wellness. Berner was preparing for a fantastic 2021 season when he tore his Achilles tendon in the opening game.
During a press conference, "I thought that was it. I thought [my] career was over," said Berner, recalling his initial stream of thought following his injury.
Fortunately for Berner, his immediate response was precisely that – an immediate response. Nearly a full year later, Berner returned to play in May 2022 with a clean sheet. A glorious comeback story for fans and the moment months of hard work paid off for Berner.
Experienced physical therapists and practitioners know that stabilizing a patient's mental health is tied to the productivity of the treatment. Here are three methods that have been proven to improve emotional well-being across injury recoveries–and brought John Berner from ACCEL facilities back to the Memphis 901FC roster.
A positive attitude to injury recovery goes a long way. Studies show that net-positive mindsets toward the treatment enhance physical recovery. Depression, anxiety, and lack of motivation can delay efforts. Maintaining a positive mindset throughout a lengthy process is exhausting and unrealistic. Everyone has bad days.
"Mentally getting back to [a competitive mindset] is…half the battle," said Berner.
When spirits dwindle, a support system can help rebuild that optimism.
Surrounding injured patients with the support of friends, family, and medical staff is key to their success. Practitioners and performance coaches know that the ebb and flow of emotions is a part of the process.
"We want our patients to feel supported and comfortable sharing their frustrations and negative thoughts," said Graham, "We work through the dark moments together."
At ACCEL, keeping patients focused on how to recover is part of that solution.
Setting clear benchmarks comes naturally to athletes and other goal-oriented persons recovering from an injury. The ACCEL team creates a customized roadmap with attainable milestones. This realistic approach keeps participants immersed in the present, focused on the current obstacle, and motivated for the next task. Specialized performance coaches are involved every step of the way until patients reach the end result, just as they were for John Berner.
We'll let John do the talking here:
If you or a loved one are recovering from an injury, meet with our reliable team about our Return to Play program. Our facilities offer cutting-edge technologies, and our experienced trainers will be by your side until you are emotionally and physically ready to bounce back into action.