Warning
: Undefined array key 1 in
C:\inetpub\websites\accel\wp-includes\media.php
on line
785
Warning
: Undefined array key 1 in
C:\inetpub\websites\accel\wp-includes\media.php
on line
787
Warning
: Undefined array key 1 in
C:\inetpub\websites\accel\wp-includes\media.php
on line
790
Warning
: Undefined array key 1 in
C:\inetpub\websites\accel\wp-includes\media.php
on line
785
Warning
: Undefined array key 1 in
C:\inetpub\websites\accel\wp-includes\media.php
on line
787
Warning
: Undefined array key 1 in
C:\inetpub\websites\accel\wp-includes\media.php
on line
790
Warning
: Undefined array key 1 in
C:\inetpub\websites\accel\wp-includes\media.php
on line
785
Warning
: Undefined array key 1 in
C:\inetpub\websites\accel\wp-includes\media.php
on line
787
Warning
: Undefined array key 1 in
C:\inetpub\websites\accel\wp-includes\media.php
on line
790
Warning
: Undefined array key 1 in
C:\inetpub\websites\accel\wp-includes\media.php
on line
71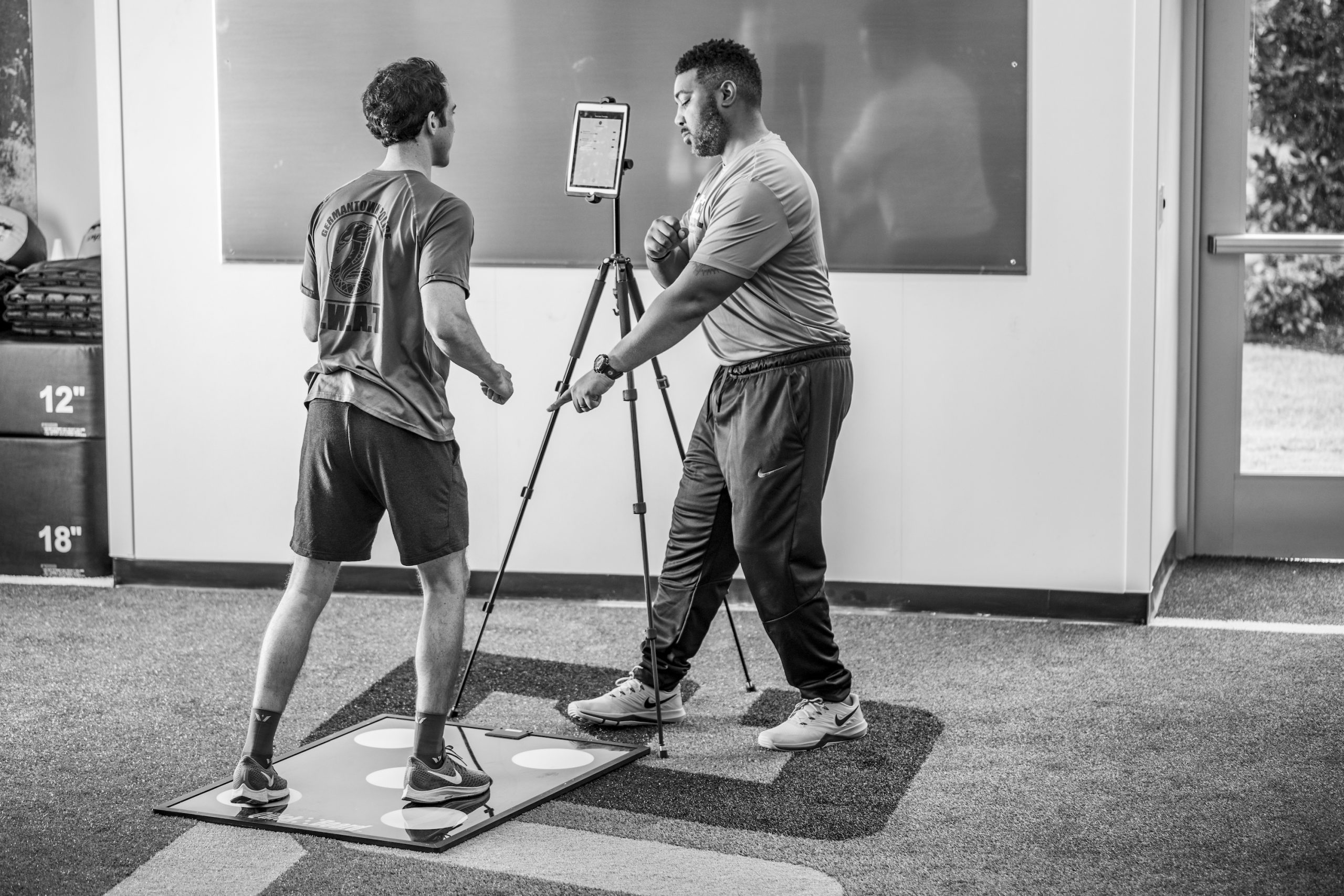 For student-athletes, preparation for the fall athletic season can be intense. There can be pressure from teammates and coaches to perform well while parents are more concerned about preventing injuries. The good news? We have some tips that can help you get your student-athlete to achieve their performance goals every season.
Tip 1: Establish a baseline.
Assessment is the first step of every process at ACCEL. Before your student-athlete is ready to set goals and start training, you need to know where they currently stand. The following assessments will allow you to check their ability to play and current fitness, as well as provide some objective data to track their progress throughout the school year. 
Sports physical and baseline concussion screening.
The Tennessee Secondary School Athletic Association will require a sports physical before the season begins. Luckily, our team is qualified to administer both sports physicals and concussion screenings. We can help you check this off your list before developing a training regimen.

Sports physicals are different from an annual checkup or well visit. Your doctor may check whether your child is at risk for exercise-induced asthma, low blood sugar or other conditions that make it unsafe to participate in sports. Schedule a visit for your child's sports physical about six to eight weeks before the season so you have time to tackle potential issues in time for your student-athlete to get in the game.

With any sport – but especially contact sports like football or soccer – it's vital to perform a baseline concussion screening. This pre-season exam assesses your student athlete's balance and brain function. The results help health care professionals determine when it's safe to resume playing sports after an injury. Coaches and athletic trainers will also have an objective test to diagnose concussions and prevent further harm. 

NOTE: Campbell Clinic offers both sports physicals and baseline concussion screening.

Movement assessments.
How do you track progress? Baseline numbers. Every new member must complete an athletic movement assessment before they can launch their tailored training regiment at ACCEL. We take a scientific approach to our standard assessments, which consist of two industry-leading performance technologies. These provide our coaches with a firm starting point so they can measure performance throughout the school year and you can watch them flourish in their sport. 
Proper form is the foundation of success. That's where Fusionetics® movement efficiency screening comes into play. During the assessment, each new member will perform some basic exercises, such as squats or push-ups, and the Fusionetics 2D mobile video will immediately log millions of data points. All of that footage uploads to the cloud via app and analyzes your child's performance against a database of elite athletes and other users. Within minutes, your student-athlete can view videos and detailed explanations of their personalized corrective exercise in the app after the assessment so that they can correct their form anywhere.

Like many sports performance centers, ACCEL offers both an Athletic Movement Index (AMI) and a specialized running assessment. By using dorsaVi™ wearable technology, our performance coaches can gather more data metrics, such as symmetry and ground contact time. While ACCEL's AMI is more strenuous than the Fusionetics screening, the results offer a wider range of insights to help your child excel. Most importantly, baseline testing with these performance technologies can help you get detailed "return to play" criteria for student-athletes with long-term injuries.

Baseline assessments. Once our team has identified your child's movement patterns and designed a training routine, ACCEL will measure progress by collecting baseline numbers. You can't know whether your student athlete's training methods are working if you don't know where they started.

At the beginning of each season, it's important to gather some general data: height, weight, and resting heart rate. Depending on the sport you also want to gather specific measurements, such as the mile or beep test for conditioning and other standardized evidence-based agility testing such as a 5-10-5 drill. There's even a specialized agility test using Quick Board technology, the only visual-motor training technology scientifically proven to significantly improve agility and balance. During the test, your student-athlete will perform exercises that target reaction, speed, quickness, coordination, and more, with the ability to view feedback on an iPad in real time.

Once your student-athlete has completed these baseline assessments, you can continue to refer to these numbers throughout the season to track their progress and adjust training accordingly. Comparing later tests with these baseline numbers gives you a way to track progress, not only against your student athlete's former self but also against athletes they admire.

Tip 2: Get the right equipment.
Every parent wants their child to enjoy their sport and wants them to be safe while doing so. No amount of equipment or safety gear can prevent accidents, but they can significantly reduce your child's chances of sitting out on the sidelines.
Every sport has its own checklist of gear and equipment. Your student-athlete may need proper footwear (which can be measured at many running stores) or football helmets (in which their high school football coaches are trained to find the right fit). Regardless of the sport, properly fitting equipment can help mitigate injuries and provide comfort while playing the game.
Having the right gear only helps if you use it consistently. While research shows that students are more likely to get injured during a game (2.7 times more likely), the reality is that the amount of time spent in competition is only a fraction of the season. Your child spends far more time at practice – which is why 60% of all sports injuries occur while training. That's why it's so important to encourage your child to always wear their safety gear. 
Tip 3: Decide on a training routine.
If they want to be fully prepared for their sport, your student athlete should start training well before the season begins. For some, that might mean generally getting into shape. Or for highly competitive student athletes it means establishing a regular workout routine with specific goals and targeted training for their chosen sport.
With any workout routine, it's important to spend some time on flexibility to help prevent injury. Your student-athlete should also allow some time for rest and recovery so that their mind and body can recuperate during training.
Accel offers a wide range of both training and recovery resources to help student-athletes prepare for the season and continue to enhance their performance:
Small group training session at ACCEL (maximum of 12 participants)
Focus on training energy systems to prevent overtraining
Normatec recovery boots
Game-ready cryo-therapy
Hot/cold plunge pools
Massage/stretch therapy
Physical therapy
Active recovery classes
Access to certified sports registered dietician
Need more guidance on how you can help your student-athlete prepare for the fall season? Contact our team for more information about the services available for student-athletes.