Warning
: Undefined array key 1 in
C:\inetpub\websites\accel\wp-includes\media.php
on line
801
Warning
: Undefined array key 1 in
C:\inetpub\websites\accel\wp-includes\media.php
on line
803
Warning
: Undefined array key 1 in
C:\inetpub\websites\accel\wp-includes\media.php
on line
806
Warning
: Undefined array key 1 in
C:\inetpub\websites\accel\wp-includes\media.php
on line
801
Warning
: Undefined array key 1 in
C:\inetpub\websites\accel\wp-includes\media.php
on line
803
Warning
: Undefined array key 1 in
C:\inetpub\websites\accel\wp-includes\media.php
on line
806
Warning
: Undefined array key 1 in
C:\inetpub\websites\accel\wp-includes\media.php
on line
801
Warning
: Undefined array key 1 in
C:\inetpub\websites\accel\wp-includes\media.php
on line
803
Warning
: Undefined array key 1 in
C:\inetpub\websites\accel\wp-includes\media.php
on line
806
Warning
: Undefined array key 1 in
C:\inetpub\websites\accel\wp-includes\media.php
on line
71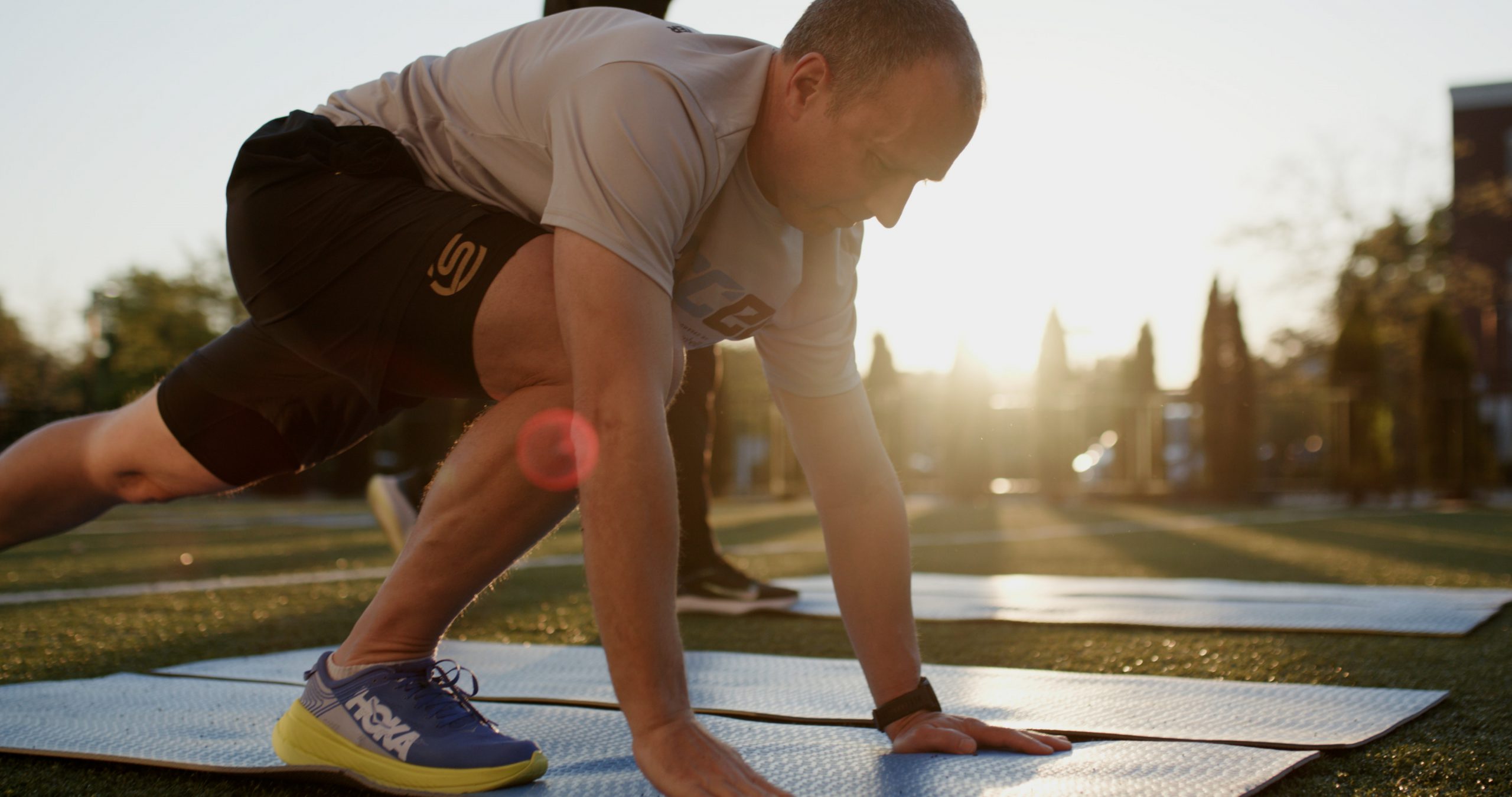 Last month, the St. Jude IRONMAN 70.3 Memphis broke ground for its inaugural event at Shelby Farms Park. Our team had the pleasure of attending the weekend-long event and providing an exclusive recovery opportunity for participating athletes (the link has been updated for 2022 St. Jude IRONMAN 70.3 Memphis participants). Campbell Clinic Orthopaedics was the official medical provider for the event and three of their physicians, Dr. Benjamin Grear, Dr. David Richardson and Dr. Jeffrey Sawyer, crossed the finish line on race day as Ironmen.
From nutrition to performance training, there's a lot of preparation that goes into preparing for an Ironman competition. We recently had the opportunity to catch up with Dr. Richardson and Dr. Sawyer to hear about their experience and what they did to get ready for the competition.
Q: What was your experience like at the Ironman competition in Memphis?
Dr. Richardson: Overall, it was a very fun, fulfilling adventure. As a novice biker, the rain created some difficulties that I did not anticipate. While making the experience more challenging, it also made it more memorable.
Dr. Sawyer: It was a fantastic experience. It was very exciting to be able to do a national level race in our hometown. I enjoyed getting to ride/run on routes I have done many times in training, which was definitely an advantage of this race.
Q: How did you prepare for race day? What were your training methods?
Dr. Richardson: I began approximately nine months before race day with a fairly regimented program. However, my schedule as a surgeon and a father forced me to be flexible. I knew the distance I needed each week for the individual events and simply tried to complete these goals. I added weights and yoga over time and believe this helped significantly.
Dr. Sawyer: I have been doing Ironman competitions for a long time – this was my 14th 70.3 event. I started training about 9 to 12 months in advance by building a general aerobic fitness/base with a 10-week ramp up in volume/intensity. I rode/ran the course multiple times which definitely helped and practiced open water swimming as much as I could. I also added weight/strength training at Accel for the first time, which helped with endurance and bike speed.
Q: What role did Accel play in your preparation for the Ironman competition in Memphis?
Dr. Richardson: Accel has state-of-the-art equipment for both workout and recovery. They offer a team of athletic specialists unparalleled in this region which allowed me to maximize efficiency. In addition, their Ironman posts motivated and informed my training.
Dr. Sawyer: I used strength classes as Accel for some of my training, but I wish I had started sooner. As the race season came closer, I had to spend more time perfecting the swim/bike/run. For this competition, I really took advantage of nutrition at Accel, and working with Alisha was amazing. She helped me learn about hydration, electrolytes and recovery and gave me nutritional samples to try which made a huge difference in my ability to race. I did not take advantage of the recovery modalities offered by Accel and hope to build these into the next training cycle.
Q: What role did nutrition play in your training preparation?
Dr. Richardson: This may have been what changed the most over the last nine months. Some time ago I became a pescatarian (only eating fish and vegetables). Other than that, I did not think too much about what I ate. It quickly became apparent that I needed a more disciplined approach. After consulting with friends I trust and doing some reading, I added a significant amount of protein in the form of nuts, yogurt and legumes while cutting back on bread and sweets. I also became more aware of my water intake, making sure I stayed hydrated throughout the day.
Dr. Sawyer: It was very difficult to understand how to approach nutrition because there is so much information on the Internet. Fortunately, I had experts like Alisha to help me. I really underestimated fluid requirements, especially here in Memphis with high heat/humidity. By making modifications, I noticed that little changes in nutrition had big impacts later in the day on the run. I now realize that in some of my more difficult races, I was under-fueled and under-hydrated.
Q: What advice would you give to someone who is considering participating in an Ironman competition?
Dr. Richardson: Start training early (at least 9 months in advance of race day) and have a plan. Set small, attainable goals, be flexible and resilient. If you have a down week, don't get discouraged, just regroup and keep pushing forward. I would also recommend connecting with an organization (such as Accel) that can provide training and nutrition advice, along with the tools you need to maximize results.
Dr. Sawyer: Go for it! The triathlon community is very welcoming and encouraging. Plan on building fitness over 9-12 months before race day and get good coaching. Make slow, steady daily progress and the big picture goal will take care of itself. Remember, your mind will quit long before your body will. Read David Goggins' book You Can't Hurt Me or Embrace the Suck, and most of all, have fun and enjoy the process.
Congratulations to Doctors Richardson, Sawyer and Grear for completing the 2021 Memphis IRONMAN 70.3!
Ready to start training? Learn more about Accel's approach to helping clients reach their performance goals.